BLOG: Blood, Sweat and Plastic Pots!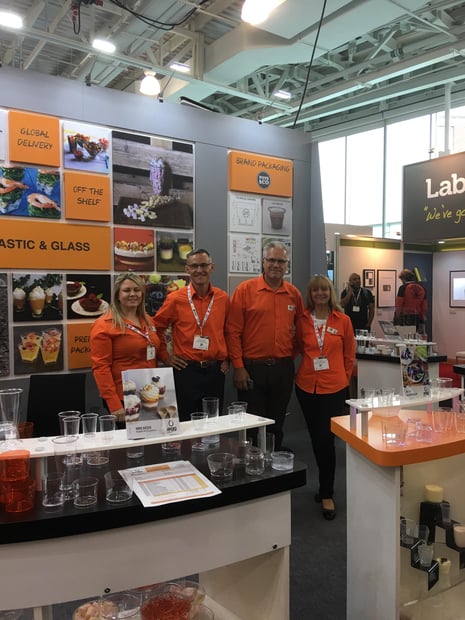 As the man in charge of 'stuff' here at Aegg, I've been asked to write a blog on how to construct a stand at a trade show.
Y'see, I have a degree of experience in this field having done it (exhibitions, that is!!) at least twice a year for the past three years. Allow me to explain to you, dear reader, in a few simple steps how to go about this;
"By failing to prepare, you are preparing to fail." - Benjamin Franklin
The author in deep thought, June '18

Understand early on what it is that you need to achieve and the best way to go about it. Remember that in these uncertain, austere times, the bigger and more extravagantly you build, the more it is likely to cost and we all know you can't be a champagne Charlie on Lemonade money!
Assemble A Winning Team.

Just like West Ham in 1980, you need to assemble a side that has various strengths, from those who can dream up the design, those who can build the stand, to those who can make it pretty, everyone has their part to play. Most important of all though, is having a 'midfield general' who can bring it all together and whip those components* into shape.

*Some components may require more whipping than others
Less Is More
Unless you are a compulsive hoarder or a nine year old boy wishing to show off their toy car collection, less is best. This allows folk onto your stand to peruse your wares at their leisure and not feel oppressed or overwhelmed – no one needs chewing gum for their eyes.
| | |
| --- | --- |
| Try to be this... | ...and not this! |
| | |
Get The Message (Across)
Our Marketing Director Nick Parker

The show is the time to let the marketing team to get to work – snazzy slogans, new catalogues – the full kit and caboodle!
Showtime!
The Aegg Sales Team at PI London 2018

Now that the hard work is done, it's time to allow the sales team loose and do what they do best and schmooze, hobnob and drum up custom. Remember; the relationships started at a show may take time to build and come to fruition with some sales. Think of it as having a pen pal in the old days and not like having a Tinder 'friend' of today*

*Cultural reference: The author is a virtuous man.
Post Show
The Aegg admin tram following up on leads yesterday

Just because the show's over, doesn't mean that the show's over! There's no time to rest on laurels, kit needs to be returned, repaired and refreshed. Most importantly though, the leads earned through incessant chat, cheap aftershave and shoe leather need to be followed up – make any contact feel valued and welcomed into the bosom of the family with samples aplenty and catalogues galore. Only then can you mull, muse, ponder, pontificate and (hopefully) bask in the glory of a job well done.