Aegg Creates New Bespoke Glass Pots For Pots & Co's New Lighter Pudding Range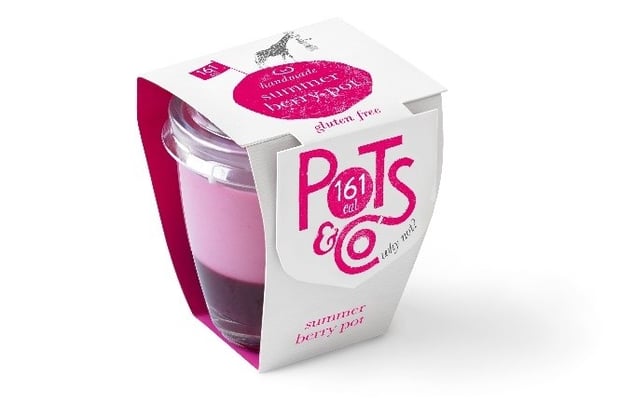 Aegg has created a new bespoke glass pot for Pots & Co's new 65g lighter pudding range. The range, which launched in April 2019 is packaged in bespoke fully recyclable clear glass pots with the Pots & Co logo embedded within the base, which accentuates the premium nature of these handmade puddings.
Aegg collaborated with Pots & Co to provide a turnkey solution, from conceptual design of the new glass pot, to production, warehousing and logistics, and right through to delivery to the factory production line. These handmade puddings are all under 200 calories per pot and come in three flavours: Mango & Passionfruit, Summer Berry and Columbian Chocolate. These three new lighter puddings are differentiated by the glass packaging and join Pots & Co's unrivalled existing range of handmade puddings in ceramic pots. The latter include classic favourites, such as Salted Caramel & Chocolate Ganache and Lemon & Lime Posset.
Julian Dyer, founder of Pots & Co, said of the lighter puddings launch, "We're really excited about this new range of puddings. We wanted to create a lighter sibling to accompany our ceramics range. We didn't want to compromise on packaging, so we worked with Aegg to design a pot that exactly matched our design requirements. The puddings are made without additives and with meticulous attention to detail, ensuring the same restaurant quality in every pot. So it was important for us to get the glass pots right to reflect the quality of our puddings."
Jamie Gorman, Aegg Managing Director, said "We have worked with Pots & Co on several bespoke projects now, including engraved pots for in-flight puddings as well as these recyclable glass pots for their new range of lighter puddings. Pots & Co collaborated with our in-house design team on the new glass pot design, ensuring the glass pots fitted with their branding and aesthetics."
Jamie went on to say "Although there is a shortage of glass packaging availability in the marketplace at the moment, Aegg has worked hard to secure new volumes for our customers. We have a successful history with plastic food packaging, but we are envisioning our glass offering will grow to become 50% of our business this coming year."