Blog: Thoughts on the future of plastic and glass packaging in the food and drink industry: reflections from Packaging Innovations Olympia 2019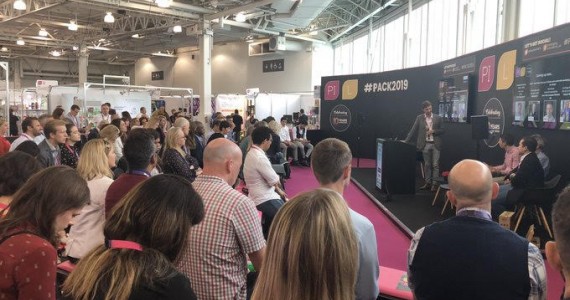 Having listened to a day of seminars at Packaging Innovations this blog is a summary of thoughts that came from those on stage, or were catalysed in me.
As Marketing Director here at Aegg, I am part of the senior team that tries to make sense of the future of our industry and plot our way through it, for the benefit of all our stakeholders.

See the end of this blog for the list of the main speaker representatives on the seminar stage to give you a feel of the quality of thought represented on stage.
1) The questions are bigger than the UK or the UK packaging industry
As one speaker pointed out, a recent UN report concluded that if food waste was a country, it'd be the No. 3 global greenhouse gas emitter (China and the USA only being larger).
The large food and drink exporters are having to satisfy increasingly different country stances on what constitutes the best recycling schemes, legal framework and polices. If they have to be mindful of the domestic consumer attitudes to 39 different recycling schemes here in the UK, just think what this means for them when it is multiplied across the globe.
As the William Grant speaker was honest enough to admit, shipping a heavy product around the world (whisky in glass bottles), and with the aspiration that this should be in ever increasing volumes, creates its own environmental questions.
The lesson I will be taking back to the Aegg Board: as a supplier to large (and small) exporters we need to stick close to these companies to ensure we are making plans and investment decisions that cover this diversity of conclusion in their boardrooms.
2) Collaboration is key
The questions over the future use and handling of plastic packaging is too complex for any one company to handle on their own. And have we really concluded that glass is greener than plastic? Where the lifecycle carbon analysis of all packaging material is probably the ultimate answer, this is an enormously complex task requiring the input of many experts.
We have to collaborate like never before.
Whether this takes the form of the Government's Consultation processes (to which Aegg has participated), or manufacturers of hygienic food grade packaging visiting grubby recycling plants, this all has to happen if we are to appreciate the issues affecting others in the closed loop economy and thereby understand how to avoid unintended consequences of our actions.
The lesson I will be taking back to the Aegg Board: we should continue to be out there, talking to a broad spectrum of packaging industry stakeholders.
3) Horses for courses
The uproar over plastic originated from observing the effect on ocean ecosystems brought on by our thoughtless disposal of plastic.
Quite understandably, the debate is now broadening, to question every use to which plastic is put. I, for one, find it easy to advocate a 'linear economy plastic' as the unequivocal material of choice for many health applications. Although you could argue health and food are different sectors, many pharmaceuticals are administered orally so what is the difference when it comes to laying down the packaging rules for food. I don't want to be consuming food from 'dirty plastic' (at least I want the choice to do so) where the plastic could be contaminated by residue from a prior use, or from pesticides (in the case on biomaterials), or from the chemicals involved in the recycling process. So, in the case of food, drink and medicine applications, if we are to move away from fossil derived plastic, biodegradable or compostable plastic makes sense to me. But these are not plastics of a circular economy where the carbon is locked away.
We heard several speakers talk of the increasing numbers of approvals for combined anaerobic digestion and heat and power plants that would seem to be a reflection of this need for short term degradable plastics. Though it has to be said that even this is not a simple solution when it comes to household plastic waste, where there are issues of segregating biogradable plastics from fossil fuel-derived plastics. Ultimately the consumer is still confused as to what to do with the disposal of plastic in order to conform to the next part of its life cycle.
The lesson I will be taking back to the Aegg Board: it's not all about the circular economy. It is about a greater scrutiny of matching plastic type to functional requirements. Inevitably our business will change to match these changes.
4) Government intervention will govern the pace of change
There are several legislative areas in which the Government has got to be involved. For example, there will not be agreement across all stakeholders to vote in taxes on plastic packaging. So whether this means finding alternative material solutions to avoid the use of the specific plastics concerned (and even this is still to be agreed), or agreement on how to ringfence the tax proceeds to ensure that they are ploughed back into expanding the UK recycling capacity (currently woefully short of what is necessary for national recycling targets), the Government will have to show leadership.
I don't want to get into party politics, but I thought that the criticism levelled by one speaker at the current Government's failure to highlight carbon emissions; the need to prioritise waste reduction over recycling; the lack of coherence over strategies to reduce food waste versus plastic packaging use; the lack of discussion around biomaterials in the first round of consultations, was unwarranted. This is a very significant topic and the Government has to start somewhere, whether or not we argue they come to this realisation later than they have.
The lesson I will be taking back to the Aegg Board: Aegg needs to continue to stick close to the progression of the Government consultations. And at European level too, since Aegg is an exporter.
5) Companies have to lay out their stall
I was quite shocked when I asked representatives of two brand companies, why they had not mentioned the word 'sustainability' in their presentations. One company answered that sustainability was 'a given' in everything they did. Whilst giving a rather weak example of this, they also mentioned the fact that their new product development strategies are not driven by consumer panels. As a company, if they 'like' something, and this fits with their ideals, they just 'do it'. Whilst I have some admiration for the strength of their philosophy, I am convinced that the new consumer, who must replace the old consumer, by definition, will want to hear more and more about the ethics that underlie company decisions.
The lesson I will be taking back to the Aegg Board: These are all difficult decisions. But we can be honest and talk openly about these, in front of our customers. They will respect us for it and we will reach better, more sustainable decisions, in all senses of the word.
The list of main speakers for day 2 at Packaging Innovations were:
Nick Brown, Head of Sustainability, Coca-Cola Packaging Partners Great Britain
Trewin Restorick, Founder Hubbub UK
Santiago Navarro, Co-founder Garcon Wines
James O'Connor Global Marketing Manager, William Grant & Sons
David Gates, MD, BrewDog
Emily Rigby, NPD, Manager, Montezuma's Chocolates
Paul Brown, Founder, BOL Foods
Emma Cook, Ella's Kitchen
Sandy Martin, MP for Ipswich & Shadow Minister for Waste & Recycling
Martin Kersh, Director, Food Service Packaging Association
Michelle Norman, Director of External Affairs & Sustainability, Suntory Beverage and Food Europe
Richard Kirkman, CTO, Veolia
Professor Michael Shaver, Professor of Polymer Science, University of Manchester
Jo Chidley, founder, Beauty Kitchen
Helen Bird, Strategic Engagement Manager, WRAP
Robin Clark director of Business Partnership & Restaurant Services, Just Eat
Aegg's Sales Director, Richard Drayson, was interviewed at Packaging Innovations Olympia by key trade magazine Packaging Insights for his thoughts on the increased glass packaging trend. Click here to view Richard's video interview.