Blog: Aegg attendance at All4Pack 2018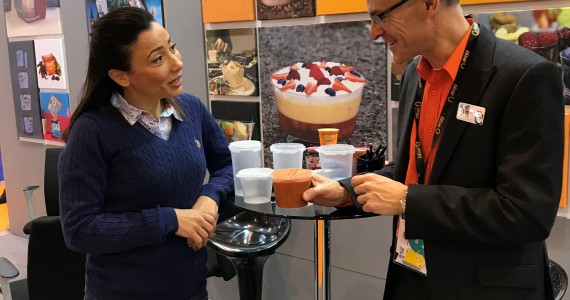 As part of Aegg's growing Export Team, I was asked to write a short blog about my recent attendance at All4Pack...
All4Pack calls itself 'The International exhibition for the packaging & logistics ecosystem' and looked to gather together 1,350 exhibitors and nearly 80,000 professionals offering a platform for exchange, demonstrations, innovation and presentations.
Based in Paris in November 2018, it was Aegg's first time exhibiting at this show. We weren't disappointed – we were busy at our stand talking to visitors from a range of countries from Canada to Kuwait. It was interesting to see that most people who visited our stand spoke good English, although the rest of the Aegg team started to become fluent in French by the end of the 4 day show in Paris!
Visitors were very interested in our new range of recyclable PP plastic sauce/ soup pots, table-presentable recyclable glassware food pots, as well as thin-walled recyclable PET pots. In fact, recycling and greener options were hot topics at the show, especially with new stricter recycling regulations coming into force in France in 2020. According to Reuters, the previous socialist French government in 2016 banned plastic straws, cups and plates from January 2020. In addition, Junior Environment Minister Brune Poirson recently told the 'Le Journal du Dimanche' that in order to channel more plastic waste towards recycling, France will introduce a discount-premium system worth up to 10% of the price of a product in order to encourage consumers to recycle. So, our ranges of recyclable PP, PET and glass products are well placed for future shifts in greener food packaging options.
This was a successful show which will strengthen our European presence and market share and we look forward to exhibiting there again.

Olivier Chereau
Export Manager