Benefits and Solutions ... how can Aegg Creative Packaging help you?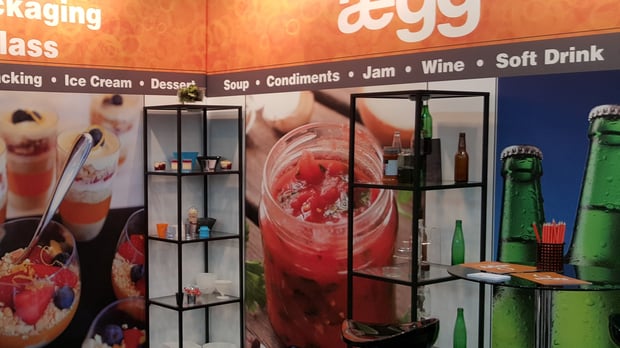 Karen Short, our Sales & Marketing Executive, recently attended a workshop at Olympia in preparation for the forthcoming Packaging Innovations Exhibition, to be held on 16 and 17 September 2015.
Packaging Innovations London is moving from the Business Design Centre, Islington, to Olympia, South Kensington.
After 5 years the show organisers, Easy Fairs, have decided a change of venue will improve visitor flow and provide greater flexibility to develop the exhibition. But will the close to 4,000 visitors, who attended the Exhibition in Islington in 2014, venture to Olympia? I hope so and, provided we Exhibitors, can demonstrate how we solve problems, show innovation and create benefits for our customers, I'm sure they will.
A tour of the venue was first on the agenda, and I must admit, I was slightly disappointed that Packaging Innovations won't be held in the majestic Victorian Olympic Hall. I suppose Packaging Innovations isn't that big yet! Instead, the exhibition will take place in the West and Central Halls, which are located at the back of Olympia, accessed via the West Hall Entrance off Blythe Road. In my view, the venue offers a bright and open exhibition centre, which will easy to access and will showcase both Packaging Innovation and Luxury Packaging in one area.
Pre-show marketing and visitor registration was discussed and also the use of social media and other marketing methods to boost visitor attendance. Lots of work to do once back in the office and I'm pleased to say I've already made some improvements to our EasyFairs account.
For me, the highlight of the workshop was a presentation by the guest speaker, Austen Hawkins. Austen spoke with authority about successful exhibitions and, although not rocket science, all of his suggestions were gentle reminders on how we can make the most of any exhibition. Austen started his presentation reminding us of our in-built fear, developed from an early age, of talking to strangers, and that's exactly what you do at an exhibition! He gave examples of how you should and shouldn't interact with your potential customers and also gave pointers on how to draw potential customers into 'your shop window'. Tips such as; creating a stand rota, rules for the stand and setting daily targets. All reminders of the importance of creating the right first impression.
Once back in the office, it has really got me thinking ... Why are we exhibiting? What can Aegg do that is different from our competitors? Work is in progress ... and I hope you visit Aegg Creative Packaging on stand F4 in September to find out! Oh and by the way, rumour has it that the new refurbished restaurant is very nice too!
Notes: Aegg Creative Packaging will be exhibiting at Packaging Innovations London on the 16 and 17 September 2015 at Olympia, West Hall. Located on stand F4.