How The UK's Supply Chain Crisis is Affecting the Food & Drink Industry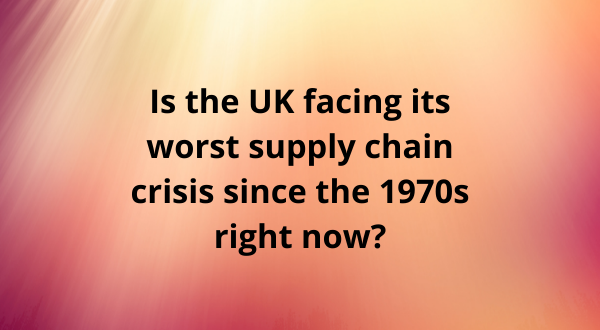 Blog by Jamie Gorman, Managing Director at Aegg Creative Packaging.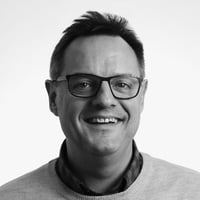 According to The Guardian, "the UK is facing its worst supply chain crisis since the 1970s".
Much of the crisis is due to the lingering effects of the COVID-19 pandemic and Brexit-related factors. There are cost pressures from every angle, hitting the food & drink industry especially hard. I explore some of the factors affecting the supply chain below…
Shipping containers
Container freight rates continue to rise with industry players estimating that prices are unlikely to start to settle until mid-2022. According to the FT, it estimates a $6,000 rise in shipping costs per container since the end of April. Container ships are used, for example, to ship polymer pellets such as polyethylene (PE) and polypropylene (PP), which are then used to create plastic food packaging. Demand for space has increased as economies reopened after lockdown measures were lifted, leading to a surge in rates for containers, with some currently more than four times higher than they were in January. Demand continues to remain high due to shipping ahead of the Christmas shopping period, although some container shipping companies are starting to introduce price freezes, which is welcome news.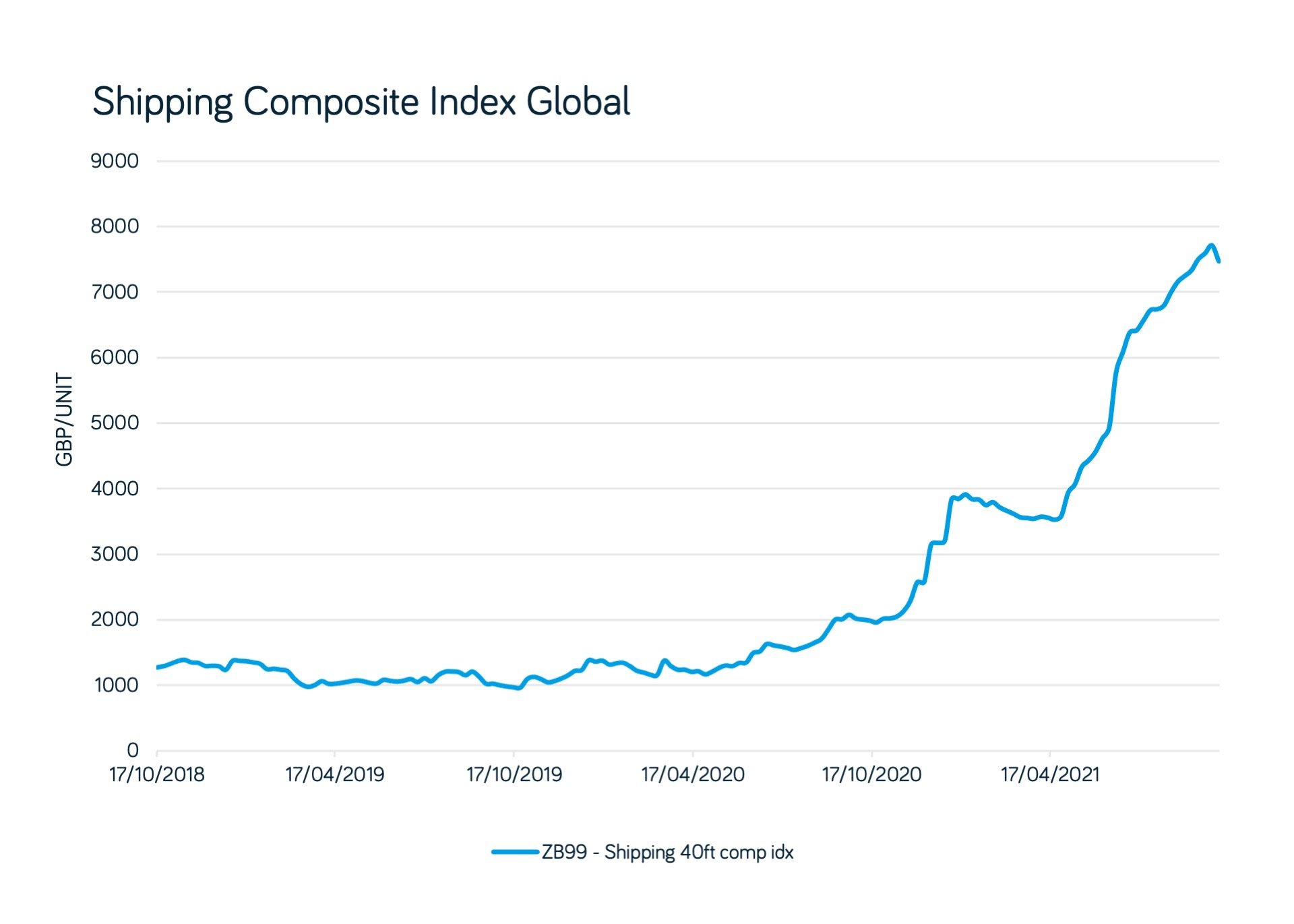 Source: Drewry
CO2 Shortage
Dwindling CO2 supplies recently prompted fears of food and drinks shortages in the UK. CO2 is used in the soft drinks industry to create carbonated drinks. It is also used as part of humane slaughter methods for livestock, to stun animals in slaughterhouses. Carbon dioxide is also used to keep packaged products fresh during transit to supermarkets. According to The Scotsman, CF Fertilisers (who produce CO2 as a by-product at the plant) suspended production at its plants due to soaring gas prices. As CF Fertilisers accounts for around 60% of the UK's carbon dioxide production, the Government stepped in to create a short term arrangement with the company to enable immediate restart of CO2 production.
Cardboard Shortage
Over the last 18 months, due to lockdowns, many of us have changed the way we shop, bringing about an e-commerce and home delivery boom, which has increased the amount of cardboard packaging being used. According to The Grocer, "two-thirds of us have shopped online more in the last year, and more than three-quarters expect to continue at these levels or higher". It also goes on to say that cardboard production is up 11% versus 2020 as the industry aims to keep pace with demand.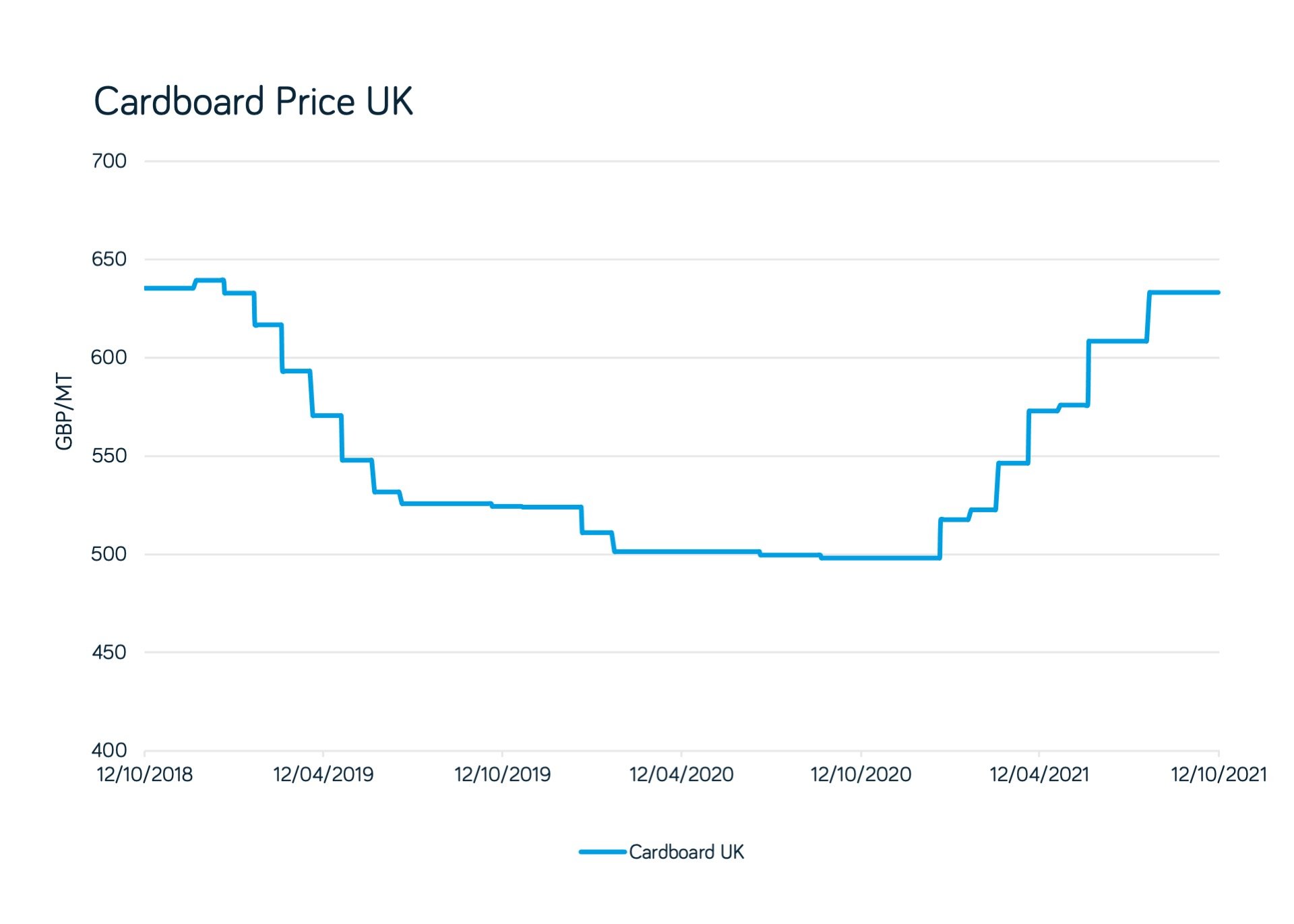 Source: Mintec
Gas prices
According to the FT, "Gas prices have risen to historic highs for a sustained period with prices in Europe and Asia now almost double the price of oil for the equivalent energy." As countries reopened their economies after the COVID-19 pandemic, there has been increased demand for gas on a global scale. Maintenance projects had to be rescheduled from 2020 to 2021 because of the pandemic, coupled with lower gas supply from Russia and less liquified natural gas reaching Europe because increased deliveries to Asia have meant lower supply and higher costs. This has had a knock-on effect on the supply chain with energy bills rising and some energy suppliers going out of business as the Government's price cap limits the rates suppliers can charge. According to British Glass, "energy costs [from natural gas] account for around a third of overall glass manufacturing costs". Therefore, the increased cost of gas is having an impact on the cost to manufacture glass packaging materials.
Source: Marex Spectron
Polymer Price Increases
Polymers are the main ingredient of the production of plastics. Aegg, for example, uses PP and PET polymers in some of its food pots and bowls, and PET is also used widely to produce plastic bottles. According to an article by the British Plastics Federation (BPF), "PP prices shot through the roof in April 2021. The driving force was the market's extreme tightness, plant outages and the absence of import material." Panic buying to secure supply also exacerbated the situation. Supply has also been hit with some producers curbing production as they are no longer able to pass on excessive rate increases to customers. PET prices also increased sharply in April 2021. Plant problems meant a shortage of materials being produced, although pandemic lockdowns and the cooler weather reduced demand. The rising cost pressure due to high energy prices has also affected polymer prices. According to Plastics Information Europe, in September 2021, "there were significant price increases in rPP and rPET [recycled plastic] due to demand for sustainability projects". With the plastics tax being introduced in April 2022, £200 tax per tonne will apply to plastic packaging produced in, or imported into the UK, that does not contain at least 30% recycled plastic (read our interview with BPF on the plastics tax here). Therefore, demand for recycled plastic (including food grade rPET) will continue to rise.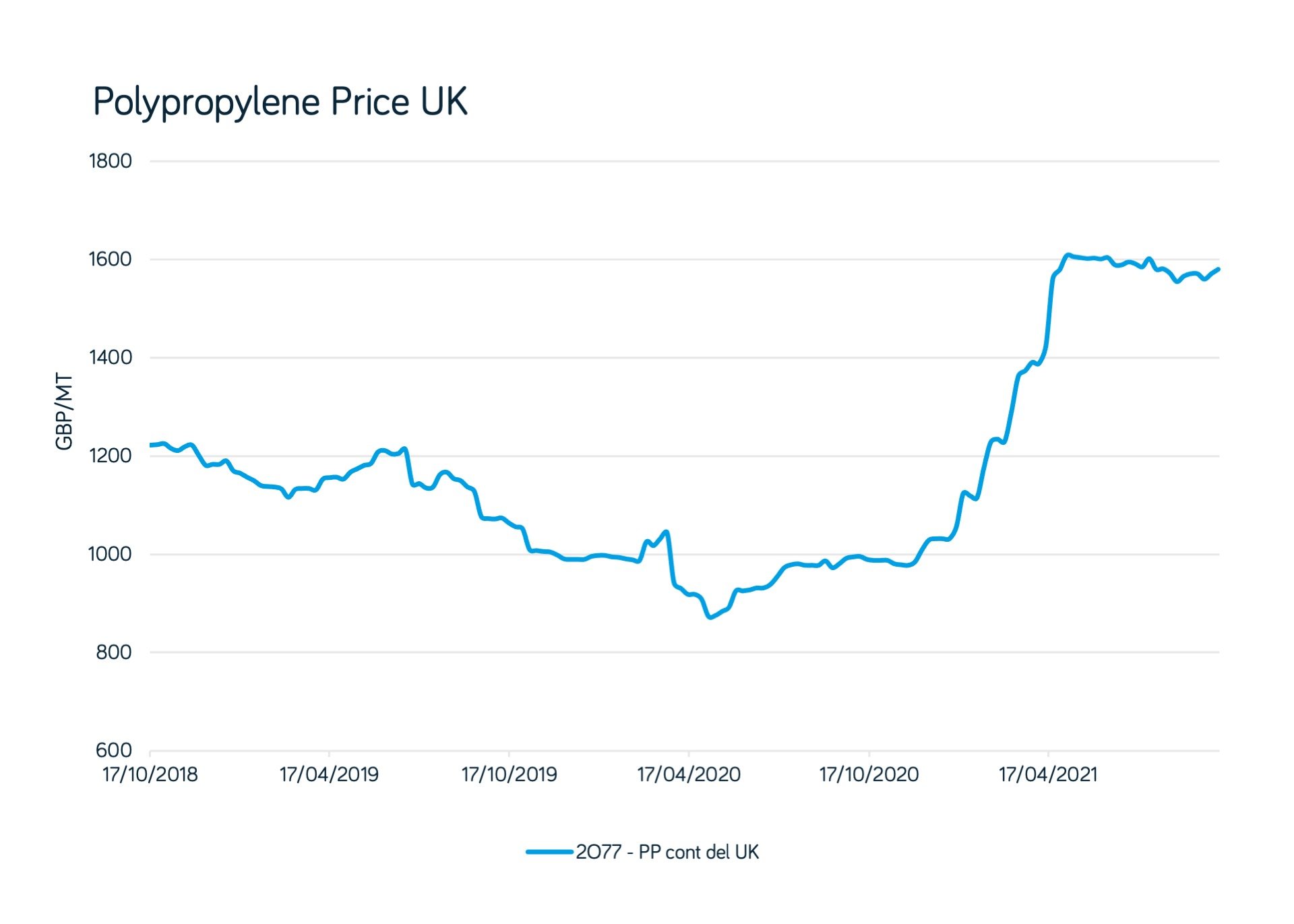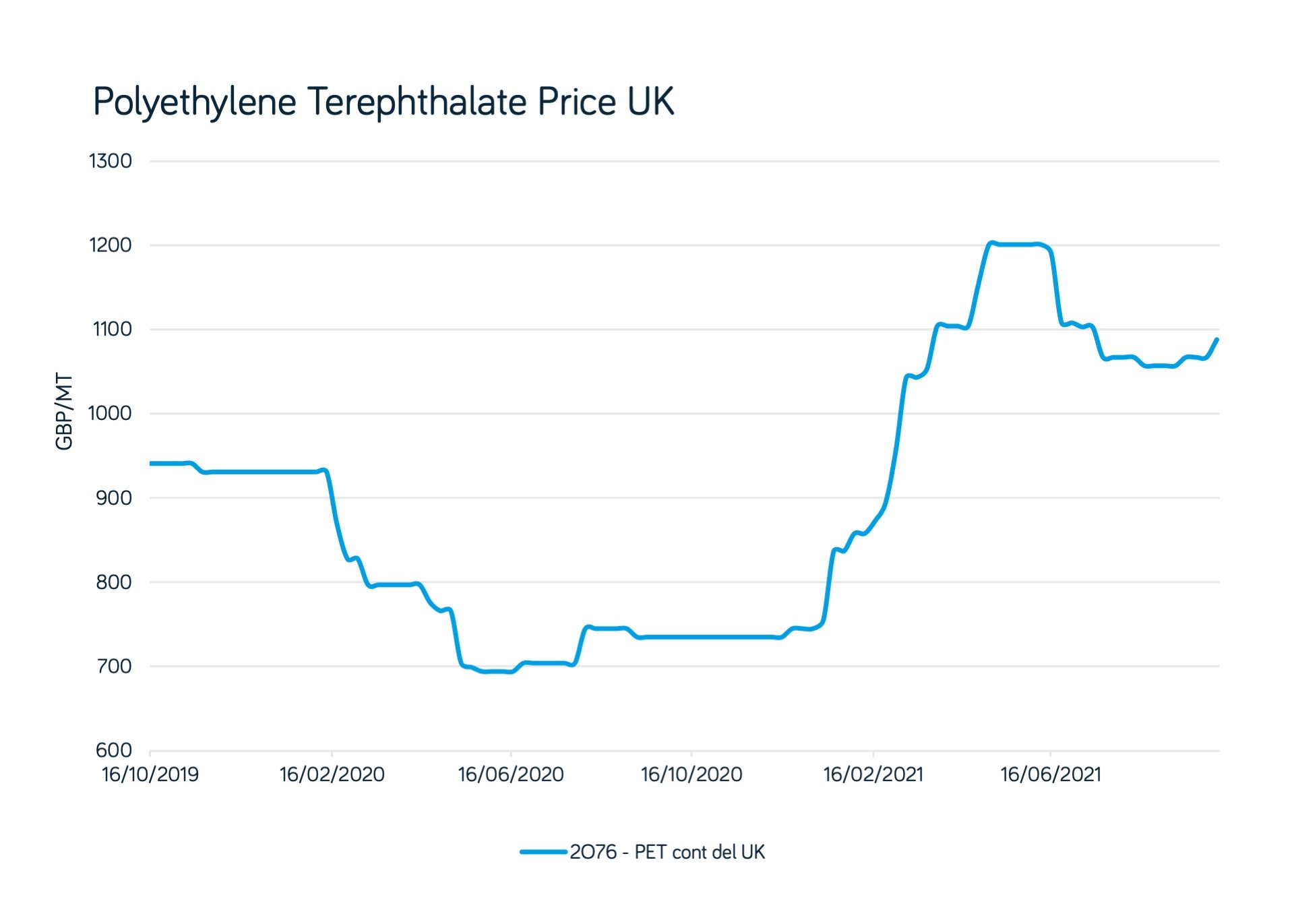 Source: PolymerTrack
Staff Shortages
General labour shortages have affected the industry, such as meat packing and fruit picking jobs – jobs previously done by EU nationals. This has in turn impacted stock levels in retail and fast-food chains. Brexit has impacted on the worker shortages, with industry leaders calling on the government to fast track worker visas to mitigate the disruptions. According to The Guardian, "the number of Romanian and Bulgarian workers in particular, who would typically fill lower-paid logistics and food production roles, has plunged by almost 90,000, or 24%, since the end of 2019". The 'pingdemic' also affected workers in the manufacturing, hospitality and retail industries, where thousands of people were unable to work because of being advised, via the NHS COVID-19 app, to self-isolate.

HGV Driver Shortages

A Road Haulage Association (RHA) survey of its members estimates there is now a shortage of more than 100,000 qualified drivers in the UK. That number includes thousands of drivers from European Union (EU) member states who were previously living and working in the UK. According to the BBC, "there are HGV driver shortages across Europe, but in the UK Brexit has made things worse. Many European drivers who went back to their home countries, or decided to work elsewhere, are unable to return." The new government IR35 rules have also had an impact as well as an aging driver workforce now retiring. As a result, some employers planned to either increase wages or offer joining bonuses to lure new recruits. However, more foreign workers are being allowed into the UK from October and more people are being brought in to train as HGV drivers. The government is also trying to encourage almost 1 million drivers who hold an HGV licence to return to the industry.
Summary

All the factors above are interconnected. The combination of all these factors currently affecting the supply chain has created a very fragile situation. This will inevitably mean that these extra costs will result in higher prices across the industry, from food and drink products to packaging. In addition, there may continue to be shortages, whether this is a result of transportation availability or raw material supply. The best way of overcoming these issues is for the industry and the supply chain to work closely together – collaboration is key. At Aegg, we continue to forge strong relationships with our suppliers and customers. Bringing our logistics service in-house last year has also given us more control over transportation and warehousing services. As Aegg's packaging is manufactured at world class accredited production sites in the UK, Europe and elsewhere across the globe, this enables each packaging solution to be optimized for unit cost, supply availability, production and delivery lead-times. We are continuously monitoring the situation by putting measures in place and sourcing solutions to meet demand.

Like this article? Sign up to receive more like this (you can opt out at any time) – click here

Credits for graphs:
Mintec enables the world's largest food and manufacturing brands to implement more efficient and sustainable procurement strategies. We do this through our cutting-edge SaaS platform, Mintec Analytics, which delivers market prices and analysis for more than 15,000 food ingredients and associated industrial materials. Our data and tools empower our customers to understand prices better, analyse their spend and negotiate with confidence.